COMING UP....
Over the coming weeks, we will be exhibiting and showcasing some examples of wedding flowers at the following wedding fairs:
Sunday 15 June 2014 – Horsley Towers, near Guildford, 11am-4pm FREE ADMISSION. Pop along and say hello to us!
NEWS 24 May 2014
Mixed weather for Emma and Matt's wedding today at Hartsfield Manor – but it wasn't a problem, as we brought early summer to them with the flowers. Creamy white peonies, purple clematis, ivory roses, and purple phlox decorated the venue – elegant and simple, to match our lovely wedding couple. You both looked stunning – congratulations x
21 May 2014
This is one of two visits to Hartsfield Manor this week – and tonight we are delivering some table centres for a corporate dinner taking place there. Bright corals, pinks, lime greens and whites adds a summery vibe to the dinner – and includes some of my favourite flowers, fragrant peonies!
15/16 May 2014
Another week crammed full of paperwork, consultations and quotations, many of which are for 2015! We are also freelancing this week for a florist in Wimbledon – designing two weddings - so it's going to be a busy one…..
9/10 May 2014
We are helping our lovely friend, Steph from Fairy Nuff Flowers, to prepare for three super weddings this weekend. The workshop is so full crammed with flowers we can hardly move – and there are a whole kaleidoscope of colours ranging from pale blues, to bright yellows, to pinks and purples. Yum!
3 May 2014
Massive congratulations and much love to Sarah and Matt who got married today in Great Bookham and celebrated in style afterwards at Hartsfield Manor near Dorking. Romantic soft pinks, creams, whites and soft greens were the colour choice of the day – and lots of fragrance too. x
18 April 2014
Hope you all have a lovely Easter Bank Holiday weekend. This is our first in four years where we haven't been working – so we have escaped to Yorkshire to enjoy it and plan on eating lots of goodies for Betty's – including the world renowned Fat Rascals! Have a good one – and make sure lots of chocolate is consumed!!
12 April 2014
We only commit to one wedding in a weekend – but we made an exception for our lovely website designer and his gorgeous wife-to-be this weekend. Paul and Amanda got married in the stunning and elegant Brocket Hall in Hertfordshire today amidst tons of amazing Cadbury purple, white, and pinky-purple orchids – some of which were over a metre high! We attended the wedding as guests too – and it was an amazing day and a lot of fun, although I can safely say I slept like a log after three weddings in eight days! Much love to you both xxxx
11 April 2014
Suzi and Dan tied the knot today with a cerulean-blue theme. We used lots of ivories, whites and lovely soft greens, perfect for a Spring wedding, and teamed it with splashes of vibrant blue. Congratulations to you both x
5 April 2014
Many congratulations to the gorgeous Angela and Dean who got married in the Mumbles and celebrated in style in the Gower Penninsula in Wales afterwards. Angela opted lots of yummy fragrances – including lily-of-the-valley, garden roses, and the all-important Welsh flower, a tiny little narcissus (daffodil). The weather wasn't all that kind, but the wedding was amazing – and you both looked stunning xxxx
29 March 2014
Today heralded the long-awaited start of same-sex marriage – and we were super-excited to be part of this historic day by designing the flowers for a lovely couple getting wed at Warrant House in Kingston-upon-Thames. The weather was amazing and I have to say that I have never seen a couple in love as much as Sandy and Jan. Congratulations my lovelies x
19-24 March 2014
We are taking a well-earned break from weddings and flowering – and are heading to Prague for a little R&R! We will be back to work on Tuesday 25 March raring to get going on our upcoming weddings and events.
9 March 2014
A beautiful hot and sunny day at the Nonsuch Mansion Wedding Fair today – which brought out the fragrant smell of our flowers to perfection! We opted to go for an elegant but contemporary look to our stand – to match the contemporary and elegant look of Nonsuch Mansion – including this gorgeous table centre which was very popular with wedding couples…… Do get in touch if you're getting married at Nonsuch Mansion – we are a recommended supplier there and are proud to be part of their Little White Book.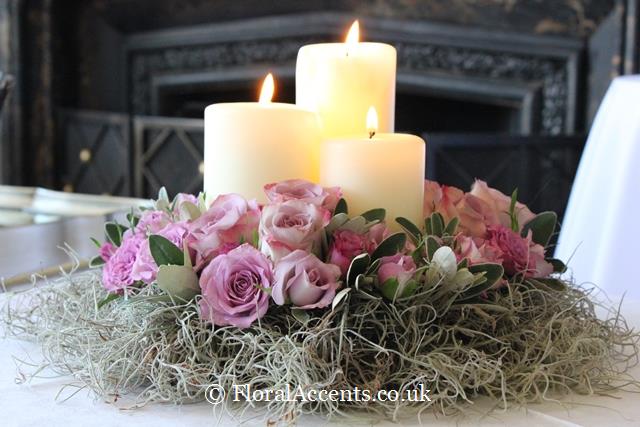 15 February 2014
An early morning visit for us to Covent Garden Flower Market with an upcoming wedding client to browse through the myriad of different options for her wedding in April. Soft pinks, zingy greens, creams, and yellows are on the menu today!
19 January 2014
Spent a lovely day this weekend meeting lots of new Brides and Grooms at the Horsley Towers Wedding Fair. The colour scheme that Horsley set this time around was white, creams and greens – a perfectly classic and elegant look for such an amazing building. The fireplace, with our hanging tealights and suspended roses was a bit of a talking point and got lots of lovely comments….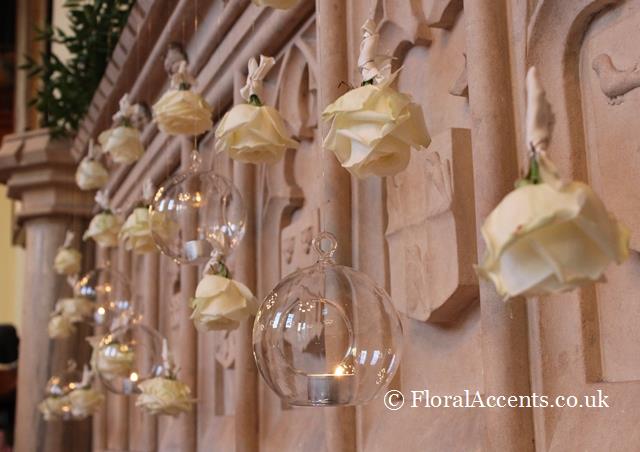 1 January 2014
A very happy New Year to all clients, past, present and future. We hope that this year brings much laughter, joy and success to you all! X
Christmas closing times
We are taking advantage of this relatively quiet time over the festive season, and will be shutting for a break between 18 December – 12 January inclusive. Feel free to e-mail us and we get back to you on our return in the week commencing 13 January. If your enquiry is urgent, please get in touch with Tanya on 07866 591301 or leave us a voicemail message and one of us will return your call. We hope you all have a lovely festive break. Ho ho ho!
14 December 2013
Congratulations to a lovely couple, Manda and Owen, who tied the knot today at Horsley Towers – with lots of seasonal foliage, berries and vibrant oranges teamed with creams and sparkles. Perfect for a winter wedding. x
2 November 2013
Over a metre high martini vases graced the tables for Louise and Tim's big day today – filled with fragrant lovelies in whites, creams and purples. Many congratulations to you both – and enjoy the honeymoon! X
26 October 2013
Many congratulations and a big hug to Olivia and Alistair who got married today at the gorgeous Loseley House and celebrated afterwards in the Tithe Barn. It may well have been wet, but it certainly didn't rain down on their spirits today – and we were lucky enough to bring a little sunshine into their day by obtaining some out-of-season summer flowers to decorate their venue with. Lovely working with you in the run-up to your big day x
13 October 2013
A super-busy weekend for us after Lorraine and Mark's wedding the day before - as we were at the Horsley Towers Wedding Fair today exhibiting some fab table centres, top table designs, bridal bouquets and buttonholes. Rich jewel-like tones in plums, aubergines and deep purples worked perfectly for the Downtown Abbey theme set by the team at Horsley – and we thoroughly enjoyed meeting lots of new Brides-to-Be and chatting about their ideas for their own wedding flowers.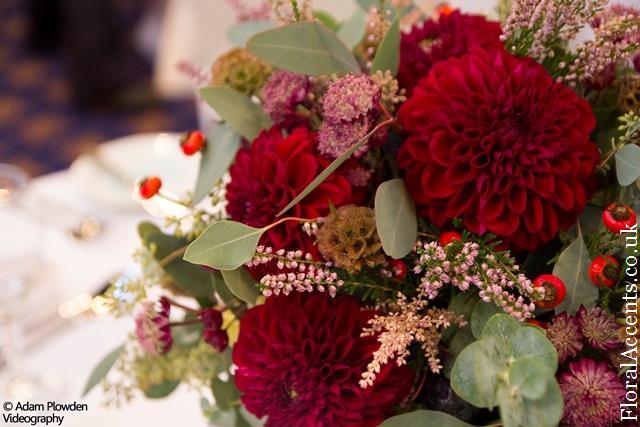 12 October 2013
A new venue for us today – The Berystede in Ascot – which set the scene for the marriage between Lorraine and Mark. Soft pinks, nudes and creams looked delicious with navy blues giving a soft, romantic look. Congratulations to you both x
29 September 2013
A sunny day heralded the Hartsfield Manor Wedding Open Day. As one of the recommended florists, we dressed the venue for a wedding in classic white, creams and greens with a selection of different table centres which were much admired by many of the wedding couples we met today. 2014 weddings are getting booked up quickly now!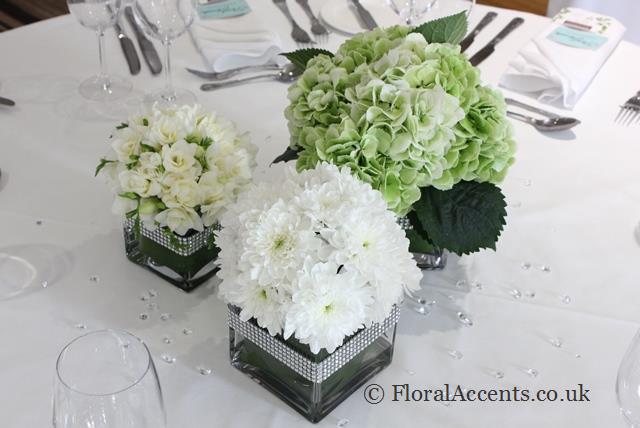 21 September 2013
Many congratulations to Georgina and Neal who tied the knot today in Camberley and celebrated with friends and family afterwards at Horsley Towers. Deep velvety red and cream roses adorned the venue to give a classic and pretty Autumnal look. Enjoy your honeymoon to Kenya and Zanzibar – and let us know how it all went when you get back x
9 September 2013
We're busy with consultations with 2014 couples – and some keen 2015 couples too! – over the coming couple of weeks at some well-loved venues and some exciting new venues for us in both Surrey and Hertfordshire too.
31 August 2013
We were back at Horsley Towers again this weekend for Michelle and Clive's wedding of creams, purples and lilac flowers – and lots of butterflies! Being the wedding florist was just one of my roles at today's wedding – I also spent time under the Bride's wedding dress too trying to sort out the layers of gorgeous net so that the dress hung right and she felt comfortable! Things we do to ensure that our couple has the best day of their lives!! Enjoy your honeymoon both of you x
25 August 2013
Whites, blues and cerises featured in Jacqueline and Lee's wedding today at Horsley Towers. Striking tall arrangements with contorted hazel and hydrangeas filled the space in the Great Hall whilst smaller antique silver votives were placed at the foot of the vases to provide some interest for the guests when seated. We hope you loved the flowers as much as we loved making them for you – and we can't wait to see the photos of the bouquets! Lots of love to you both x
16 August 2013
The M25 in Surrey may well have been shut making it difficult to get around, but we still managed to deliver a stunning Ruby Wedding Anniversary bouquet to a couple married for an impressive 40 years today. Gorgeous scented deep red roses, rosemary, fragrant mint, and huge deep red garden roses made a lovely surprise delivery for them both. Congrats!
3 August 2013
Many congratulations to Celine and Jack who tied the knot today at St Aidan's Church in Coulsden and then partied afterwards at the gorgeous Nonsuch Mansion. Soft summery lilacs, creams, pale vintage pinks, mellow greens and pale blues matched the venues perfectly and despite the huge thunderstorms the night before, the sun made a timely appearance for the wedding day. Enjoy your honeymoon and your subsequent move into your new house together x
20 July 2013
A relaxed, laid back, fun couple require flowers that match them! So Horsley Towers saw an explosion of bright colours for our American couple's wedding renewal vows today – including fun, brightly coloured paper lanterns hanging from the ceiling, and rustic wooden charger plates with mason jars stuffed full of flowers for the table centres. Hope your day was perfect Owen and Stephanie – you certainly had a bright sunny day for it! Safe journey back to the US x
15 June 2013
A lovely bright and warm day for our couple getting married in Brockham today. Pretty summer pastels in peach, pink, white, cream, green and pale blue – including some gorgeous sweet peas to give a lovely signature fragrance to the day. Many congratulations to you both Samantha and Huw x
7 May 2013
We have fallen in love with Pinterest – and have to admit to becoming a little obsessed with it! It's a great way to collect on-line pictures and images from the web and to create an on-line mood board for your wedding. Why not take a look at our Pinterest site - http://pinterest.com/floralaccents/ - where we've been pinning both flowers and other things that inspire our work, plus some of our own images of work that we've done before. Happy pinning!
15 April 2013
A busy week for us with lots of new meetings with couples and a wedding fair at the lovely Horsley Towers yesterday. As a recommended supplier there, we were asked to dress the Great Hall with flowers around the lavender and purple colour scheme. The top table proved a great hit with an eclectic mix of vintage bottles with a pretty lace trim, filled with a selection of pretty blooms and interspersed with flickering tealights.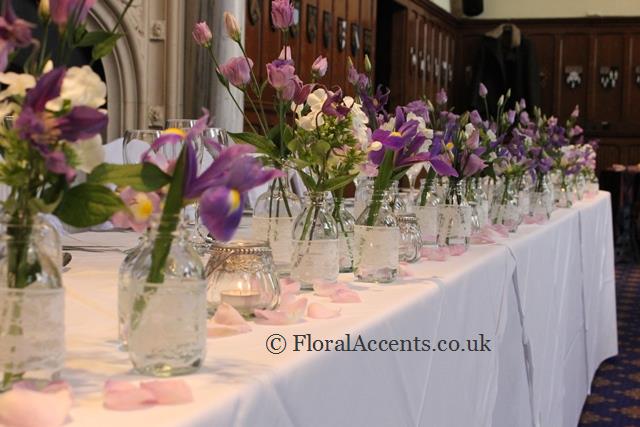 30 March 2013
Many congratulations to Lauren and Daniel who got married at the majestic Botleys Mansion today. Lots of bright colours with an array of spring flowers for their guests to feast their eyes on – including a large feature vase with contorted hazel and hanging flowers, anchored by real oranges no less! You both looked so happy – and best of luck in your future lives together x
17 March 2013
We've been busy flowering for the Hartsfield Manor Wedding Fair today – 11-4pm. Lots of delicious Spring flowers including tulips and anemones to woo you all and much more besides. Come along and say hello to us and all the other friendly recommended wedding suppliers! Free admission and a glass of champagne on arrival – what more could you ask for?!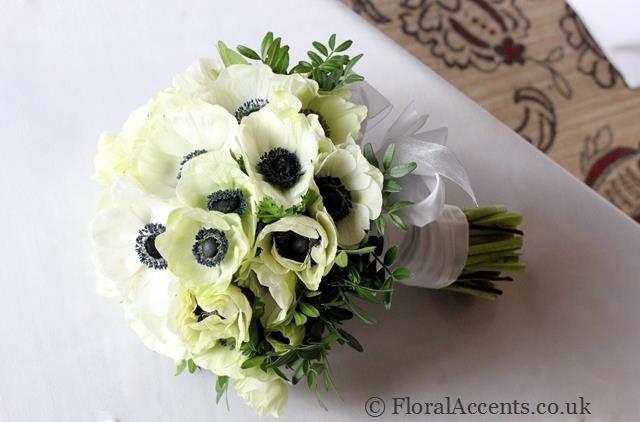 2 February 2013
Spent a lovely morning with a wedding couple and their wedding planner, the lovely Marine from Boutique Wedding, strolling around Covent Garden Flower Market early this morning looking at options for their March wedding. Loving their brights colour scheme and their wish to bring a little bit of the Spring sunshine into their wedding day.
7 January 2013
Now the festive break is over, we have a couple of hectic weeks of consultations with new Brides and Grooms in the diary for their 2013 and 2014 weddings. So why not book a free, no-obligation meeting with us too to discuss your wedding flowers?
1 January 2013
Happy New Year! We are excited about the year ahead – we have some great weddings coming up – and we wish everyone a successful and happy 2013 x
24 December 2012
We've been busy over the last couple of weeks getting ready for Christmas – making lots of Christmas wreaths (pine, mixed foliages, and fresh flower & foliage ones) and adorning houses with Christmas trees and foliage garlands. Happy Christmas to all of our past, present and future clients – and enjoy the time off work! Lots of love from us all at Floral Accents HQ x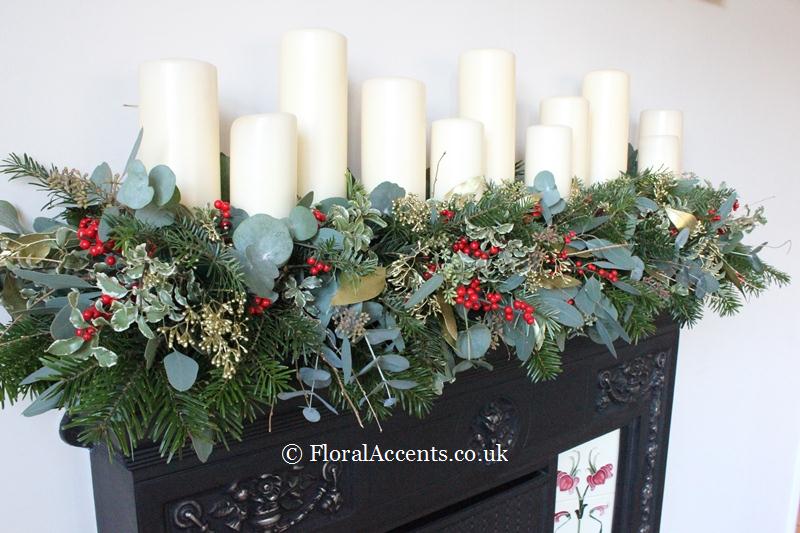 3 November 2012
Back at Horsley Towers again this weekend for our final wedding of 2012! Romantic pale pinks and whites complemented the pale grey of the bridesmaid dresses perfectly – in an elegant vintage theme. Mounds of fluffy gypsophila featured as the table centres with lots of tealights to add a candlelight vibe to the proceedings for Tamarin and Aaron. Many congratulations to you both.
28 October 2012
A busy weekend for us with a wedding yesterday and a wedding fair today – this time at Horsley Towers. We had a lovely day meeting lots of new couples and chatting to our fellow recommended suppliers at the venue – and were lucky enough to even sample some of the Jess Hill cake samples (delicious by the way!)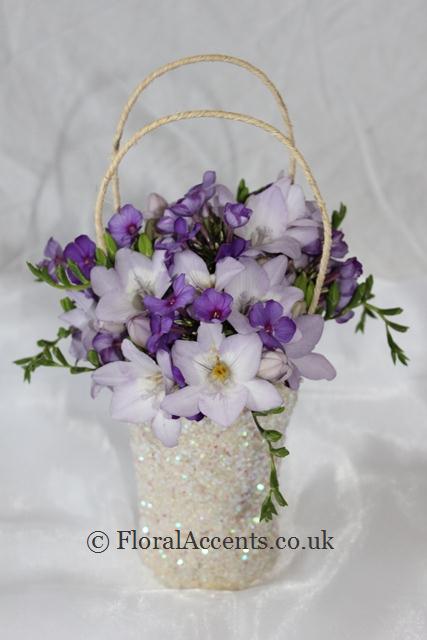 27 October 2012
Congratulations to Anne-Marie and Chris who tied the knot at Hartsfield Manor today. Stunning oranges, russets, and reds– featuring autumnal leaves, gerbera, berries, and roses – filled the venue and provided a little autumnal inspiration in the glorious sun. Enjoy your honeymoon!
23 October 2012
An early start for us today – we were up bright and early to meet one of our Brides for next August at the Covent Garden Flower Market. We spent a lovely two hours walking around looking at different options for her bouquet and table centres, swatch in hand and a large coffee in another!
7 October 2012
Following our return from holiday, we were thrown straight back into designing flowers for the Hartsfield Manor Wedding Fair held today. We not only prepared flowers for our stand, but also dressed the ceremony room and lounge areas – and provided flowers for the Bridal Suite too. Take a look at our funky vase arrangement – perfect for creating a striking focal point in a room.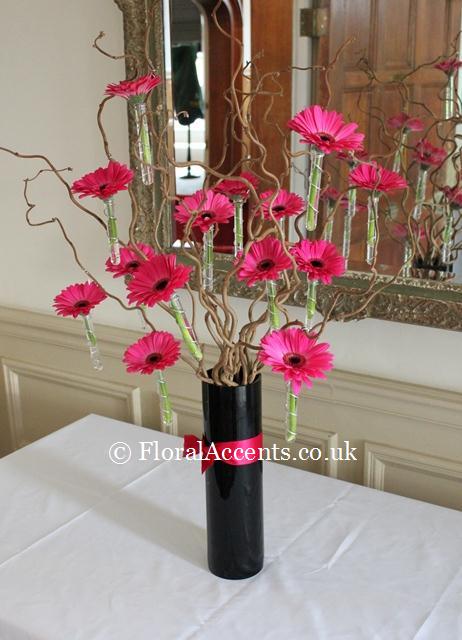 18 September 2012
Floral Accents is taking a well-earned break from a busy wedding season for a couple of weeks to recuperate before the Autumn weddings start. We'll be closed until 5 October – but feel free to send us an e-mail in the meantime which we will answer on our return – or if your enquiry is urgent, feel free to leave us a voicemail and someone will return your call.
16 September 2012
Teneille and Ben made the 24 hour plane journey over from Australia to get married at Hartsfield Manor today. Wanting a relaxed vibe to the day, they opted for an eclectic mix of glass bottles – each with a trim of lace ribbon – containing stems of flowers in deep pink, cream and whites, teamed with lots of different tealights. Congratulations to you both – and enjoy your Italian honeymoon! x
8 September 2012
Congratulations to Claire and Ben who got married at Hartsfield Manor today. The colour scheme was all whites and greens – and included a 9 metre staircase garland – fitting in with their desire for a chic and elegant "London look". It was an very early start for us though, as Claire had opted for a wired shower bouquet – and as the weather was so hot, we were worried that it being out of water overnight would result in it looking a little worse for wear. Seeing Claire carry it in all her finery though was well worth it! x
26 August 2012
A traditional Hindu wedding followed by more Western evening reception was the order of the day for Preema and Claudio at the majestic Botleys Mansion. The brief was "vintage elegance" – so we designed groups of silver vases containing a mass of white hydrangeas, muted pastels peach and cream roses, and garden roses teamed with an eclectic mix of silver tealights for each of the 19 tables. Happy honeymoon – and speak to you on your return x
18 August 2012
A blistering hot day – one of the hottest this year – saw Jess and Dan tie the knot today in Shere. Country-style flowers in creams, purples and lilacs decorated the church arch, pew ends, and the marquee along with tiny butterflies – and we even managed to source some flowering mint to pay homage to Dan's job as a chef! You both looked stunning – and I hope you were pleased how everything looked. Lots of love x
3 August 2012
Although a showery morning – which resulted in us getting soaked to the skin when unpacking the cars – the sun made a timely appearance for Rob and Sarah who got married today at Gorse Hill in Woking. Mounds of deep pink frothy hydrangeas and sparkles adorned the tables – whilst the white versions played a prominent part in the bouquets. Congratulations to you both. x
28 July 2012
A rare weekend off for us – as all the roads are closed for the Olympic Cycling Road Race. So we've decided to join in the fun and have donned Union Jacks which we are looking forward to avidly waving as the cyclists come past!
21 July 2012
Congratulations to Ali and Hansel who got married in Croydon today and the celebrated in style afterwards at Gatton Hall just outside Reigate. Beautiful multi-petalled peach garden roses were teamed with soft peach and cream roses, scented white stocks, berries, and grey succulents – very "in vogue"! Not content with one wedding, the happy couple are off to South Africa for a second wedding reception and honeymoon – enjoy! X
30 June 2012
Romantic summery reds, calming creams, and zingy greens were the order of the day for Katie and Frank who got married at Hartsfield Manor today – including the most enormous deep red peonies that we have ever seen! You were both so relaxed and calm – and looked absolutely stunning! Have a lovely honeymoon and speak to you on your return xx
25 June 2012
We're freelancing today and tomorrow for Spriggs the Florist in Petworth – designing floral arrangements for the Goodwood Festival of Speed later this week. Lots of vibrant colours and contemporary designs – it's going to look amazing!!
24 June 2012
We're back at Horsley Towers today at their wedding fair – it's free admission and is being held between 11:00 and 16:00. Pop along and see what we have on offer – and get some advice about what flowers are available in your colours for your wedding month.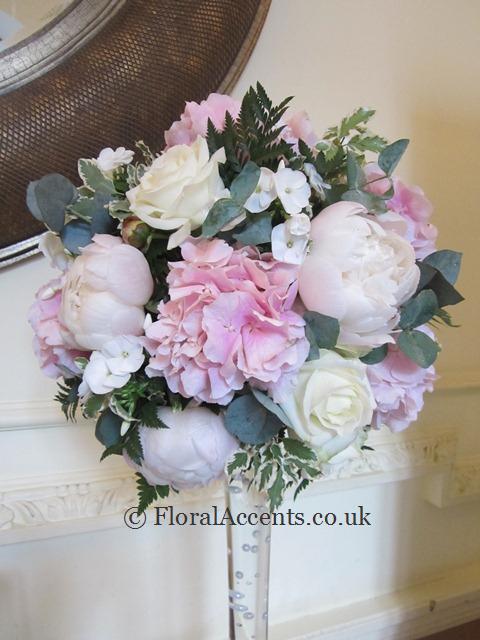 8 June 2012
Wendy and Chris had a lovely pale pink and cream theme for their wedding at Horsley Towers today – and fragrant too, with wonderful large peonies featuring throughout. Many congratulations to you both – and enjoy the honeymoon! xx
2 June 2012
Congratulations to Sally and Mike who got married in the stunning backdrop of Syon House and Park today. Not only did we pop Mike's buttonhole on for him when he arrived, we also caught a glimpse of Sally and her Maids when they were walking through the gardens to the House for the wedding ceremony – as expected, both looked gorgeous! And there was the most amazing white chocolate and champagne cake by Jess Hill Cakes – jaw-dropping! We hope our fragrant lovelies did justice to the both of you and the setting xx
19 May 2012
A long drive to the wedding venue today for us – but boy, was it worth it! The fantastic Priory Barn near Stevenage played host to Sarah and James' wedding this afternoon with lots of rustic whites, greens and creams. We only hope the Best Man got the message about the buttonholes which were keeping cool outside in the shade! Many congratulations to you both – we hope you enjoyed all the little extras! xx
4 May 2012
Thankfully the sun managed to make an appearance for our couple today who flew all the way over from Australia to get married at Langshott Manor! Congratulations Michael and Shona – you both looked amazing! xx
2 April 2012
The diary is jam-packed this month with consultations, events and functions – we suspect that it's going to be a few weeks of frenetic late-night working!
24 March 2012
Congratulations to Anya and Marcin who tied the knot today, and continued their celebrations at Farnham Castle afterwards. A stunningly hot day – Anya was even having her hair & makeup done outside when we arrived! We filled with lots of pastel pinks, creams, and lilac Spring flowers. Good luck! xx
20 March 2012
We are thrilled to announce that we have just been asked to become one of Horsley Towers wedding florists – which is even more meaningful for us as Tanya herself had her wedding reception there! A truly special venue.
10 March 2012
A beautifully sunny day heralded Liz and Shane's marriage at Hartsfield Manor today. Lots of fragrant white narcissus and roses with a hint of vibrant green Spring foliage. You both looked deliriously happy – enjoy the honeymoon and once again, congratulations xx
6 March 2012
We had a lovely afternoon in the grounds of Painshill Park in Cobham today sipping a cup of tea and chatting with the wedding co-ordinator. A stunning setting for a wedding – and a venue that we are proud to be a recommended supplier at.
26 February 2012
The wedding yesterday was followed by a mad rush to get everything made in time for the wedding fair at Hartsfield Manor Betchworth today, a venue where we are their recommended florist. Lovely chatting to all our fellow suppliers and meeting lots of new couples – one of which only got engaged last weekend! Despite being cold, the sun made an appearance to help showcase our lovelies on display. Take a look at the vase designs on display in the Ceremony Room…..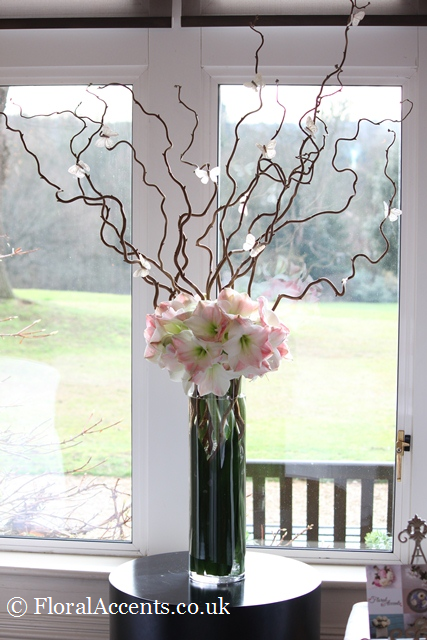 25 February 2012
Many congratulations to Zoe and Andy who got married at the lovely Savill Court Hotel in Windsor today. An ice-themed wedding featuring lots of orchids too – but luckily, the snow that was expected held off for them! Hope you had a lovely day and we can't wait to see your photos! xx
22 February 2012
We've been at the Champagne & Accessories Evening held at Grace of Wescott's bridal boutique this evening meeting lots of lovely new Brides-to-Be – whilst of course, sampling the champagne on offer!
21 February 2012
We are so pleased tell you that Warren House in Kingston-upon-Thames has asked us to be one of their recommended suppliers for wedding flowers. We did a lovely wedding there last year and they were so impressed with our work, they've invited us into their wider wedding team!
16 February 2012
We are very excited to be featured in The Independent Newspaper's Wedding Supplement today!! Take a look to see what they wrote about us.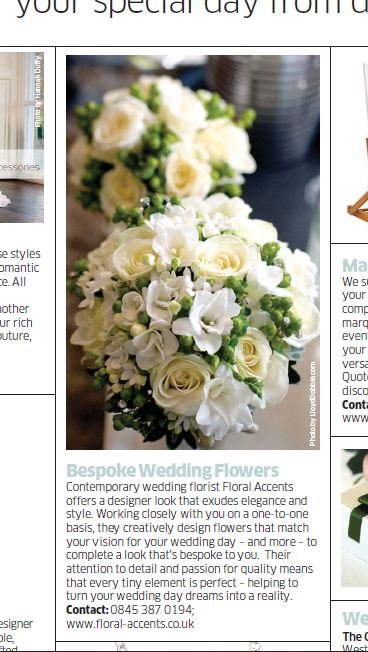 12 February 2012
We met lots of lovely couples at the wedding fayre held at the newly refurbished Edwardian Radisson Hotel in Guildford today. It was a busy day for us – as we designed all the bouquets and fresh flower hair accessories for the catwalk show that GraceOfWescott.com put on. Our gorgeous girls – made up by the very talented Emily of athomebeauty.posterous.com and Leanne of WeddingHairByLeanne.co.uk – were modelling the stunning bridal gowns and accessories, along with our flowers. Followed by the Miss Surrey finalists!! Take a sneak preview here – more piccies to follow...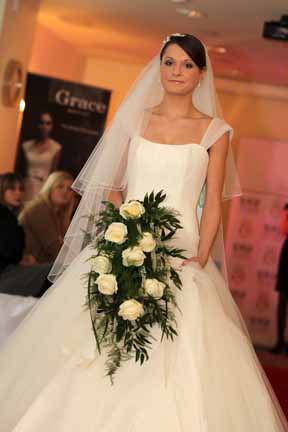 1 January 2012
We'd like to wish all our clients – past, present and future – a very happy New Year. We had some fantastic weddings in 2011 and met lots of lovely new people, both couples and other fab wedding suppliers, and we're looking forward to what promises to be an even better year in 2012!
24 December 2011
Happy Christmas everyone – enjoy the festive break!
10 December 2011
Many congratulations to Sharon and Chris who got married at St Mary's Church in Reigate today – with a gorgeous cream colour scheme and some added festive sparkle. We hope you had a lovely day despite the cold and frosty start! Xx
3 December 2011
Festive and fragrant golds, creams, whites, and greens – for a stunning wedding at the beautiful Nonsuch Mansion today. Congratulations to Laura and Jon – you both looked stunning xx
15 November 2011
Floral Accents is taking a well-earned rest before the Christmas weddings start – and so will be closed until Monday 28 November. Feel free to drop us an e-mail in the interim and we promise to get back to you on our return.
11 November 2011
Tanya was invited back today to the prestigious flower school where she learnt her trade to talk to new floristry students about her experiences of setting up a floral design business. A whole new experience for her – but a role that she was honoured to be asked to fulfil. And she even got to judge the students handtied bouquets!
5 November 2011
Bonfire night and fireworks – the day made even more special for Kirsty and Tim who got married at the beautiful National Trust property, Clandon Park. Gorgeous simple greens, whites and creams. Congratulations! xx
25 October 2011
We are thrilled to announce that we are now one of the recommended suppliers for Hartsfield Manor in Betchworth – a magnificent Victorian stately home nestled in 16 acres of private Surrey countryside. Check out this gorgeous wedding venue at www.deverevenues.co.uk/locations/hartsfield-manor/weddings.html
21 October 2011
Congratulations to the lovely Sara and David who got hitched at Brockham Church today – and celebrated in style at Hartsfield Manor afterwards. You both looked stunning – and we hope you loved the flowers as much as we did designing them for you! xx
14 October 2011
Grace of Wescott put on a fantastic bridal catwalk show at the weekend at Wotton House just outside Dorking – and we provided a couple of bouquets for their models. Take a look at this great preview video of the show taken and produced by Wedding Flicks.
Grace by Pozella Productions from natalie pozella on Vimeo.
Flowers – Floral Accents
Bridal gowns – Grace of Wescott
Hair styling - Leanne Spikesman
Jewellery - Emma Hadley Wedding
Make up - Emily Rumble
8 October 2011
Sarah and Mark got married today at Barnett Hill at Wonesh – with a funky turquoise and bright yellow theme. Check out Sarah's unusual wedding bouquet for yourself – which just goes to prove that roses are not the only flowers that can look fantastic in a wedding bouquet!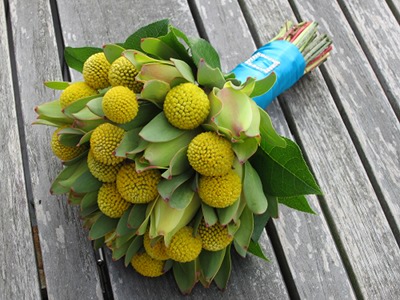 2 October 2011
We're at the Painshill Park Wedding Fair today. Whilst admittedly, you might want to don your swimming cossies and head down to the coast given that it's 28 degrees (!), why not come along to see what we have to offer instead. I promise it'll be worth it!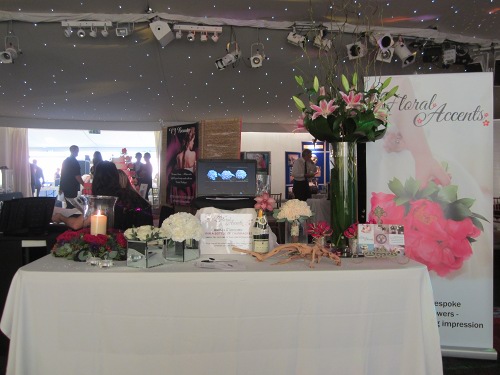 30 September 2011
What a stunningly beautiful day to get married! Congratulations to Kate and Steve who got married at Ramster in Chiddingfold today. Lots of love to you both. xx
25 September 2011
We were incredibly lucky enough to have our fantastic website designed and built from scratch by our lovely lifelong friend Paul, at RPH Web Consulting. It has to be said that Paul put up with a lot from us in terms of getting it "just right" – and then refused to let us pay for anything, despite our frequent protests. So as he wouldn't take any money from us – and he has a passion for fast cars - we instead, treated him to a "Driving Experience" in an Aston Martin V8 Vantage and a Ferrari F430. Looks like he had a good time! And thanks again for everything you've done for us Paul!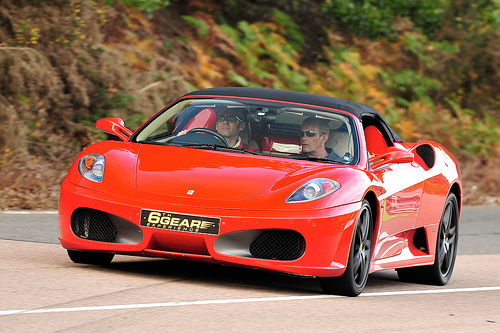 10 September 2011
Congratulations to today's Bride and Groom, Bekki and Dexter, who got married at the gorgeous and elegant Warren House in Kingston-upon-Thames. xx
2 September 2011
We've been invited to exhibit at Denbies Wine Estate's Wedding Fair near Dorking on 17 September between 11:00-15:00. It's free admission to couples, so why not pop along to speak to us and other local wedding suppliers.
27 August 2011
Congratulations to Lindsey and Sam who got married today at Hampton Court Palace! xx
15 August 2011
Don't forget to book a florist early on! We already have several bookings for next summer and our diary for consultations is getting full. We only ever accept one wedding on any given day or weekend, so get in early to avoid being disappointed. Contact Tanya on 0845 387 0194 to arrange a free, no-obligation consultation.
7 August 2011
A beautiful sunny day for our lovely Bride and Groom today – who got married in the New Orleans House Gallery in Twickenham. Congratulations to Monica and David! xx
16 July 2011
Congratulations to Lucy and Steve – who despite the pouring rain, managed to somehow pick the one sunny break in the day to get married in Shere Church. We're not sure whether that was pure luck or divine inspiration! Congratulations to you both. xx
9 July 2011
It was Carol and Wayne's big day today – with the ceremony at St John's in Merrow followed by the wedding reception at Horsley Towers. Congratulations! xx
18 June 2011
40 years of married life together! Lots of love to Pam and John who have just celebrated their ruby wedding anniversary. It was a pleasure working with you in the run-up to your party and in designing the flowers for this very special occasion. xx
11 June 2011
A massive congratulations to Vicky and Jay who got married today at the beautiful Horsley Towers. A great couple, and a lovely sunny day! We wish you the best of luck for your future lives together. xx
5 June 2011
Stunning bridal gowns, beautiful wedding flowers and much more at our Bridal Showcase event – click here to view the photos.
16 May 2011
The 2011 wedding season starts in earnest soon, and so with this in mind, we are escaping for some well-needed rest before it starts going crazy. We will re-open for business on Wednesday 1 June 2011 when all e-mails and enquiries will be answered. If you can't wait until then, and want to get a consultation in the diary for our return, please phone 0845 387 0194 and speak to Barbara at Grace who is kindly looking after the diary for us.
7 May 2011
Following the success of our Bridal Showcase held back in January with Grace of Wescott, we are holding another one tomorrow between 12:00-16:00. So if you're still looking for inspiration for your wedding flowers, wedding hair styles, bridal gowns or photography, pop along to talk to us and our trusted partners to get some expert advice over a glass or two of bubbly!
3 May 2011
With the Royal Wedding still in the forefront of everyone's minds, we thought we'd share a blog with you – "A Right Royal Romp".
28 April 2011
Wedding fever is in the air with the biggest wedding of the year tomorrow – the much anticipated Royal Wedding! With this in mind, we are exhibiting some of our designs hand-in-hand with Grace of Wescott at the Royal Surrey Hospital.
23 April 2011
Congratulations to the lovely Katie and Owen who got married today at St Mary's Church in Fetcham. Hope you both had a lovely day – the weather was so fantastic for this time of the year, lucky you! xx
21 March 2011
We were at the Painshill Park Wedding Fair at the weekend. It was certainly popular – with over 250 couples registering. Take a look here to view some of our floral designs that we took with us.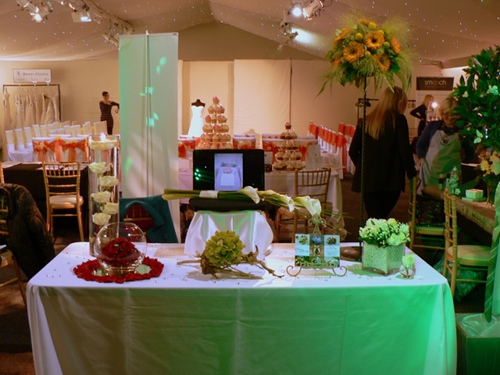 15 March 2011
Still looking for wedding suppliers? Painshill Park (Cobham) are holding a wedding fair on Sunday 20 March between 11:00-16:00. We'll be on hand to offer advice on your wedding flowers, so why not pop along to see what we can do to help.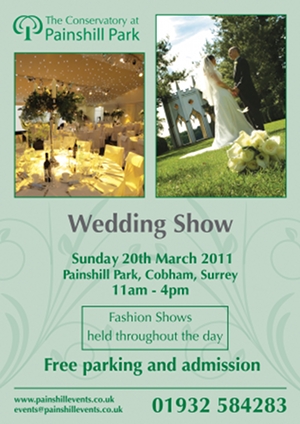 12 March 2011
Congratulations to our Bride and Groom, Sophie and Adam, who got married today at The Connaught Hotel in Mayfair. Sophie looked so stunning in her gorgeous dress! xx
13 February 2011
Floral Accents is a short break and getting away for some R&R! We will be back open on Monday 28 February when we will deal with all enquiries and e-mails.
3 February 2011
Lovely evening spent with other trusted wedding suppliers at a fab tweet-up networking event arranged by Weddings in Surrey and hosted at the magnificent Warren House in Kingston-upon-Thames. Thanks to Pamela for a great event!
30 January 2011
We had a fun but busy bridal showcase event today - with Grace of Wescott and Wedding Hair by Leanne – and chatted to lots of lovely brides-to-be about their wedding flowers. Take a look at some of our photos from the event, taken by the talented Simon Pope (www.simonjpope.co.uk).